Vasey Upholstery has won the
Best in Kailua Kona 2015 Award!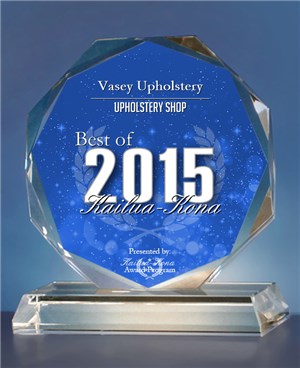 (Press release)

Stay with the best!

We cover full range of furniture upholstery Hospitality industry, rental properties, antique and high end, one of a kind furniture. We do Marine upholstery. At Vasey Upholstery productivity meets quality - We provide great turn arround time with high quality results.

Call or email for estimate.

We are hiring: Seamstress position available.

Quality FURNITURE, RUGS and ART.

We sell quality used high end furniture, Rugs and Art.
Some of the brands we sell include:

McGuire,
Brown Jordan,
Drexel,
Ethan Allen,
Eastern accents,
Murano glass,
Indich rugs


furniture, accessories, and original art.
We get items made in France, Egypt, Japan, China, Africa, Germany, England, India, and Persia. We have items made with golden teak, koa, maple, marble, granite, silk and crystal.

Furniture store: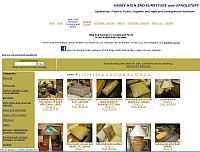 You can shop our consignment store without leaving your home - email us, or give us a call if you find something you like.
Bring your quality furniture for consignment (See our consignment guidelines).
Our consignment store located at our Kailua Kona location

We carry quality US made high density foam. It comes in different grades and types to fit any possible applications. We also carry marine foam, memory foam and low density - economy foam.
Have your measurements ready and use our Online foam price calculator to get a price or to order foam online. You can place your order online, by phone or by email. Foam will be ready for pick up from our local warehouse in 10 days after order was placed, or it will be shipped to you if shipping is requested.

FREE shipping to continental US for foam orders over $200 (Foam only).

We are selling upholstery fabrics wholesale and retail. We sell fabrics NATIONWIDE anywhere in US.

We have large selection of upholstery fabrics. Browse our fabrics on our fabric website or let us know what colors or print are you looking for - we will be glad to help. We carry upholstery indoor, indoor/outdoor, outdoor, marine and automotive application fabrics with unique variety of colors, prints and textures.

We have a new approach in our wholesale fabrics sales - you do not have to be a businness and apply for account in order to buy our fabrics wholesale. Our wholesale fabrics and prices available online for convenient online purchases. Check out our wholesale prices, and feel the difference of buying wholesale.

Our fabrics dedicated website: www.bestfabricsonly.com.